EmSculpt for Muscle and Body Contouring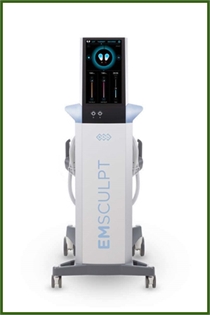 Emsculpt is the only non-invasive procedure that both builds muscle and burns fat. It helps both men and women sculpt their body and improve muscle tone. It can be used to strengthen and tone the abdomen, buttocks, and other areas of the body. The device works using HIFEM technology to induce powerful muscle contractions. These contractions are more powerful than the contractions that the body can achieve through a voluntary contraction. The muscles respond to these contractions by strengthening and improving their underlying structures. This process can help create a flatter stomach and a lifting effect. Dr. Haven is one of the first physicians in the country to offer this innovative body contouring treatment.

This body contouring procedure can take 30 minutes to treat a target area such at the abs or buttocks. There are typically four to six sessions spaced two to three days apart. The feeling is similar to an intensive workout, but you can lay down and relax during the treatment. The procedure is non-invasive and does not require recovery time or any pre or post treatment preparation. Results take two to four weeks after the final session and improvement is seen several weeks following treatment. A single 30 minute session is the equivalent of 20,000 abdominal crunches.